Miss Avocet
was an
Ymbryne
and the headmistress of her school/safe haven in Blackpool Tower. Miss Avocet was portrayed by actress Judi Dench.
Background
Edit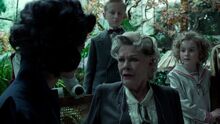 Her loop was attacked by Hollowgasts and all of the children were slaughtered. She tried to save them, but she was outnumbered and they put the machine in her loop. She somehow managed to escape and fled to Miss Peregrine's Home For Peculiar Children. She was found by Jake and Emma in the Cairn Tunnel, hurt and unable to turn back to human form. She was brought back to Miss Peregrine and nursed back to health. When Peregrine went with Mr. Barron, Miss Avocet took charge and led the children. She was later killed by Malthus.
Peculiarity
Edit
Avian Shapeshifting: As an ymbryne, she can shape-
shift into a bird, specifically an Avocet.
Time Manipulation: As an ymbryne, she can manipulate time and create loops.
Relationships
Edit
Miss Peregrine is a good friend of hers and came to her when her loop was attacked by Hollowgasts and all of her children were slaughtered.
Ad blocker interference detected!
Wikia is a free-to-use site that makes money from advertising. We have a modified experience for viewers using ad blockers

Wikia is not accessible if you've made further modifications. Remove the custom ad blocker rule(s) and the page will load as expected.