Hollow City

Author
Ransom Riggs
Photograph Contributors
Ransom Riggs

Roselyn Leibowitz Muriel Moutet David Bass John Van Noate Erin Waters

Publication date
January 14, 2014
Published by
Quirk Books
ISBN
9781594746123
Publication Order
Preceded by
Miss Peregrine's Home For Peculiar Children
Followed by
Library Of Souls
Hollow City is the sequel to Ransom Riggs's novel Miss Peregrine's Home for Peculiar Children. It was released on January 14, 2014.
It starts right after the first book ended, and focuses on the rise of a terrifying antagonist with the name of Caul Peregrine, who is also Miss Peregrine's brother.
Characters
Main Characters
Supporting Characters
Minor Characters
Setting
Introductory Quote
"
And lo! towards us coming in a boat

An old man, frizzled with the hair of eld, Moaning: "Woe unto you, debased souls!


Hope nevermore to look upon the heavens. I come to lead you to the other shore; Into eternal darkness; into fire and frost.


And thou, that yonder standest, living soul, Withdraw from these people, who are dead!" But he saw that I did not withdraw...

"

–Dante's Inferno, Canto III
Synopsis
Part 1
Chapter 1
Chapter 2
Chapter 3
Chapter 4
Chapter 5
In the modern world, the wights take the peculiars through to the London Underground, and begin loading them onto the train. But while they are trying to force Emma on, Emma heats up her hands, melts through her handcuffs, and burns the wight on the face, saving Jacob. Meanwhile, to Jacob's shock, Bronwyn tears Joel-and-Peter away from each other, causing them to scream and shatter the train's windows and knocking Jacob, Emma, and the wights down. Emma and the wights go unconscious immediately, while Jacob is on the brink of following suit and passing out.
Jacob starts to drag Emma away from the train, but collapses from the pain. He watches the others being loaded on the train and taken to an unknown destination.
He awakens later to find himself in a phone booth, Emma is still unconscious, with Addison licking the two in attempt to wake them up and soothe them. Jacob is about to ask Addison how he got there, but Jacob's phone rings, and he answers, hearing his father's worried voice. Jacob is about to tell his father to stay calm, when the Rogue Hollow appears, lifting up the phone booth and slamming it back down, shattering the glass. It grabs Jacob by the throat and lifts him up, slowly strangling him.
Jacob, on the edge of surrendering, gives in to the pain he feels whenever a hollow is near. Deep down inside, he feels a whisper, and lets it rise, speaking in the language of the hollow and telling it to "Back off". Upon hearing this, the hollow immediately lets go of Jacob and sits back. Jacob quickly tells his Dad that he's ok, and that he loves him and his mother. Jacob hangs up and assures Addison and Emma that the hollow won't attack. Then, he turns back to the hollowgast. Speaking the hollow language, Jacob orders the Rogue Hollow to stand.
Characters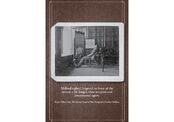 Photographs
Credited Photographs

| Title | Page | From the Collection of | Description | File Name | Source |
| --- | --- | --- | --- | --- | --- |
| Jacob in silhouette | 8 | Roselyn Leibowitz | | | |
| Emma Bloom (Emma in the Dark) | 8 | Muriel Moutet | | | |
| Enoch O'Connor (Enoch's Dolls) | 9 | David Bass | | | |
| Claire Densmore (Claire's Golden Curls) | 10 | David Bass | | | |
| Fiona (Girl with Chicken) | 10 | John Van Noate | | | |
| Miss Avocet | 11 | Erin Waters | | | |
| We Rowed Faster (Credited in the first book) | 18 | | | Rowfast.jpg | |
| Girl boarding train | 212 | John Van Noate | | | |
| Crying baby | 226 | John Van Noate | | crying baby.jpeg | |
| Peculiar brothers | 246 | John Van Noate | | | |
| Sam | 283 | John Van Noate | | | |
| Millard in the mirror | 300 | John Van Noate | | | |
| The lookout | 309 | John Van Noate | | | |
Uncredited Photographs Also Found in Hollow City

| Title (Unofficial) | Page | Description | File Name | Source |
| --- | --- | --- | --- | --- |
| | 18 | | Island.jpeg | |
| Blimps | 34 | | Blimps.jpeg | |
| Jacob on the Rocks | 42 | | Jacob on the rocks.jpeg | |
| Cuthbert | 60 | | | |
| | 70 | | | |
| Miss Wren's House | 78 | | Misswrensmenagerie.jpeg | |
| Grunt | 80 | | 00032.jpeg | |
| Addison MacHenry | 83 | | | |
| Deirdre the Emu-Raffe | 89 | | | |
| | 90 | | | |
| Peculiar Graveyard | 94 | | Peculiar graveyard.jpeg | |
| Pompey | 96 | | Pompey.jpeg | |
| Ca'ab Magda | 97 | | | |
| Miss Wren and a Chicken | 114 | | Miss wren and chicken.jpeg | |
| Radi | 139 | | Radi.jpeg | |
| The Goat People | 146 | | Goat people.jpeg | |
| Faces for a smile | 147 | Signed "G.M.S.K* | Vantriloquist.jpeg | |
| Gypsies | 150 | | Gypsies.jpeg | |
| Dead Horses | 167 | | Dead horses.jpeg | |
| Hostages | 170 | | Hostages.jpeg | |
| Dead Soldiers | 181 | | Dead soldiers.jpeg | |
| Doll's House | 224 | | Doll's house.jpeg | |
| Firefighter | 225 | | | |
| Horace Catching a Pigeon | 228 | | Horace catching a pigeon.jpeg | |
| Damaged Cathedral | 231 | | Damaged cathedral.jpeg | |
| Eyes in the Catacombs | 243 | | Eyes in the dark.jpeg | |
| | 248 | | | |
| Mr. A. F. Crumbley | 251 | | Mr. Crumbley.jpeg | |
| Sleeping with Skeletons | 254 | | Skeletons.jpeg | |
| Melina | 256 | | Melina.jpeg | |
| Esme in the Bathtub | 274 | | Esme.jpeg | |
| The Clown | 306 | | Clown.jpeg | |
| Congress of Human Oddities | 308 | | Congress of human oddities.jpeg | |
| The Amazing Matchstick Men | 311 | | Matchstick men.jpeg | |
| Snake Charmer | 312 | | | |
| The World-Famous Folding Man | 315 | | | |
| The Peculiar Archives | 319 | | Frozenloop.jpg | |
| | 323 | | | |
| Althea | 328 | | | |
| The Heart of the Peculiar World | 340 | | | |
| Call, call, call | 348 | | Call call call.jpeg | |
| Moaning Girl | 349 | | | |
| Abraham in Silhouette | 373 | | Abes silhouette.jpeg | |
| Shoulder Blades | 386 | | | |
| Don't Look Away | 400 | | | |
Book Trailers