Blackpool
is the location of
Barron's
hide out where he kept the
ymbrynes
that he captured. It is famous for its majestic tower.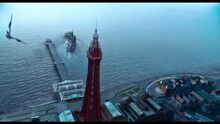 Whilst not appearing in the book, Blackpool has made an appearance in the movie. Instead, the Wights' Fortress in the books was in Devil's Acre.
Ad blocker interference detected!
Wikia is a free-to-use site that makes money from advertising. We have a modified experience for viewers using ad blockers

Wikia is not accessible if you've made further modifications. Remove the custom ad blocker rule(s) and the page will load as expected.